The community was saddened at the news of the death of John O'Brien, Clonard Grove which occurred at St Vincent's Private Nursing Home, Elm Park on Sunday June 8th 2002. Born in Enniscorthy, Co Wexford in October 1937, John was an accountant by profession. He was employed for a time by Ericsson and subsequently by Jhonsons Brothers Ltd in Ballymunt, Walkinstown, until he retired in 1999.
John was truly one of nature's gentlemen. His quite pleasant manner and ready smile endeared him to all of us who had the pleasure of knowing him. He was above all else an outstanding family man. While his wife Brenda and his four sons, John, Tony, David and Barry will miss him sorely, he has left them many very pleasant memories to treasure.
John had a great love of sport, particularly hurling and Gaelic football. He rarely missed attending a game when one or more of his sons were playing, and he could always be relied on to provide transport. It gave him great pleasure when his youngest son Barry was selected on the Dublin under 21 and senior hurling panels this year. It was only last September that John was asked to serve on the Executive Committee of Naomh Olaf GAA Club as treasurer. As usual he was willing to oblige. It was particularly busy time in the club as the development draw was in progress.
John carried out his functions quietly and efficiently, creating a lasting impression in a relatively short period of them. When passing a vote of sympathy to his family and before adjourning the club's fortnightly meeting as a mark of respect, the club chairman Chris O'Grady recalled a recent visit to John while he was in the nursing home. While they were looking out the window of Elm Park Golf Club. Chris asked John if he played much golf. John replied "Once a year with the firm. If I got too fond of the game the children would suffer".
When I visited John five days before his death the only concern that he expressed was that I would thank on his behalf all those who had visited him as well as the many people who had sent cards and messages of goodwill to himself and his family. I think that this speaks volumes about the sort of man John was, always placing the needs of others before his own.
.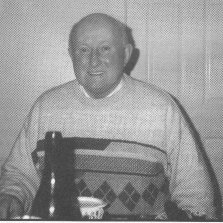 The Late John O'Brien Go ndeanna Dia trocaire as a anam dilis..
The Late John O'Brien
There was a large and representative attendance the the removal of John's remains from his home to the Church of the Ascension of the Lard, Balally, on Monday 10th June. Naomh Olaf GAA Club provided a guard of honor as the coffin, draped in the Club flag was carried by John's four sons in the church. Father Brian Edwards officiated. Following the removal, the O'Brien family invited everyone present to the Clubhouse for refreshment.
The funeral mass was celebrated by Father Edwards assisted by Father Charles Archer of the Salesian College Cellbridge, where John's brother, Jim had thought until sir recent retirement. John's wife Brenda read the first reading while his brother Jim read the second. His four sons said the prayers of the faithful. Father Edwards preached a most appropriate homily.
The offertory gifts included a family photograph, a hurley and a jersey of John's native county Wexford. The singing of the adult choir was much appreciated. Following the ceremony the remains were taken to Mount Jerome for cremation.
The O'Brien family bore their grief with great courage and dignity that was matched only by the manner in which John had accepted his illness and death. Go ndeanna Dia trocaire as a anam dilis..